Church Teaching on Devotions
In general, as opposed to the liturgy, there is great freedom with regard to devotions. People can pray privately more or less as they wish. The Constitution on the Liturgy gave us several principles that have been repeated by the Popes, for example, Pope Paul VI and Pope John Paul II.
One of these principles is that devotions should never be inserted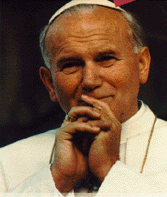 into the liturgy or tacked on at the beginning or the end. We must not use the liturgy to promote something to the wider community that is itself a matter of private choice. Although there is much freedom with regard to such things, we cannot impose particular devotions on the entire community. Since the liturgy by its nature surpasses any devotion, it must be celebrated with integrity, as the Church decides.
That means, for example, we don't sing Marian hymns during Mass in May, because at that time we are celebrating the Easter mystery. Instead, during May devotions, we should sing Easter hymns, songs about the Resurrection of Christ.
Another principle is that devotions should not influence the liturgy. Rather, the spirit of the liturgy should influence devotions.
That means, for example, we don't say the Hail Mary at the end of the General Intercessions, the Prayer of the Faithful. Instead, we look for devotions outside the Mass, celebrated separately, that bring us to pray to the Father through Christ, as the liturgy teaches us to pray.
Similarly, the spirit of Scripture should permeate private devotions. Purely
subjective expressions, especially those in conflict with Scripture, should be replaced by idiom that corresponds to our faith. For example, we will not put Mary in the place of Christ, says Paul VI. We won't sing of her as the "font through whom all graces flow." Rather, it is through Christ her son through whom all graces flow.
Thank God, the Church today is being renewed by precisely this excellent leadership of the Second Vatican Council and the bishops of Rome. New devotions are arising, to help us pray outside the liturgy, in the same spirit of the liturgy.